Round 14K Gold
Diamond Stud Earrings
14K gold four-prong settings
White or Yellow Color
Diamond: SI2 G-H VG Cut
---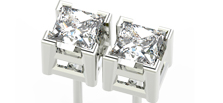 Princess 14K Gold
Diamond Stud Earrings
14K gold four-prong settings
White or Yellow Color
Diamond: SI2 G-H VG Cut
---
WANT TO KNOW WHAT IS STUD EARRINGS !
Whether you want something decent to adorn your ears with while not going overboard or you're looking for the perfect gift to give to your lovable or closest someone, stud earrings are the ideal option for you because you can never go wrong with them. They're decent, simple, classy and fashionable, all-in-one. They can be worn on a daily basis, without requiring a special occasion or celebration.
For those of you who don't know what lines define a stud earring, I'd like to first introduce you to the parts of an earring:
Earring post: This is the pointed part that goes through the earlobe
Earring back: This part has a tiny hole in the middle and is inserted into the post from the back to prevent the post from falling
Stud earrings are those which contain a small ornament on the front end of the post, such that its base doesn't extend beyond the earlobe.
Stud earrings have been in fashion ever since old times. In fact, they've never been out of fashion. They're extremely popular among the masses and have a few advantages over other types of earrings, which include:
They're one of the basic fashion accessories that can be worn by people of all age groups and genders. In fact, whenever mothers get their children's ears pierced, they grace the newly pierces ears with stud earrings because they won't get stuck in the children's hair.
Stud earrings can be worn on any occasion, whether casual or formal, depending on their design. They're ideal for daily wear as well.
They're pretty, adorable, simple, and decent.
They're easier to wear and carry than drop earrings, dangle earrings or any other earrings owing to their lighter weight and more stable structure.
You don't need to be a fashion expert to decide which stud earrings to wear. Any will do, as long as the color matches or contrasts with your dress.
They make a great gift to give to your loved ones, this especially speaks of stud earrings with diamonds. You won't have to worry which color or style to get because all colors and styles will go with one dress or the other.
Now that we all know how important and popular stud earrings are, let's look over at some stud earrings we at Aramis Jewellery have available for sale.
Round 14k Gold Diamond Stud Earrings


This adorable and decent piece of jewelry is bound to be loved by whoever you get them for!
Princess 14k Gold Diamond Stud Earrings


Stylish and decent, these earrings define the class.
Our mission at Aramis Jewellery is to provide you with the highest quality earrings that won't wear away or break and will last for generations to come. All of our products are genuine and the diamond we have used in the above earrings is of the SI2 G-H VG cut variety.

We take pride in keeping our customers happy and satisfied and we offer you a wide variety of high-quality beautiful earrings to embellish your earlobes at a very affordable price.

?>