Oh My… Is it Valentine's Already??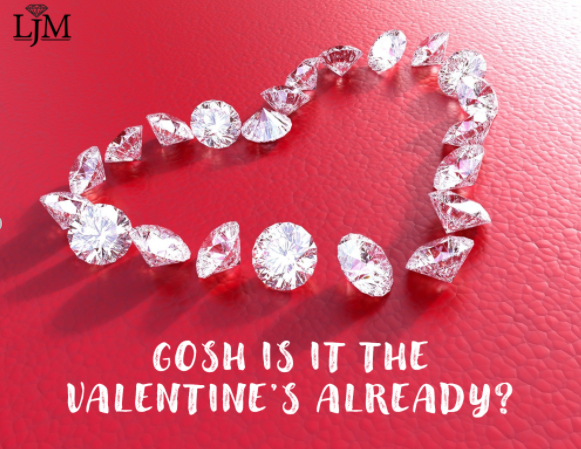 Forgot what life was like pre-covid? Has it been a while since you've had a special date night? Not too sure how you'll be celebrating Valentine's Day this year? Don't let lockdown get in the way, as you can still make things special this year by getting your loved one the perfect gift they'll never forget!
---
Customized Engraving
Every sweet soul loves a personalized gift because it makes them feel extra special. Whether it's their name, a date, or a quote - engraved jewellery is a perfect and easy gift to give! We have a series of name necklaces, engraved pendants, rings, bracelets and earrings that are all customizable. This Valentine's Day, engrave and express your everlasting love. We guarantee you'll be showered with some happy tears and warm cuddles once they put it on!
---
Keeping It Simple
Not sure if they'd like something personalized? If not, you can keep things simple and classy. A best seller for something like this is our classic diamond earrings. They are dignified, timeless and very minimalistic. Moreover, it's something that is not just aesthetically pleasing, but also very versatile and can be worn for every occasion. Whether it's an office meeting, a house warming party or just a few errands at the nearby grocery store; your lady can flaunt them like a queen, anytime, anywhere!
---
Popping The Question
Valentine's Day can be cliché, but it's still one of the most romantic times of the year to get down on one knee and pop the question. The only thing you'll need is that perfect ring which will make her heart skip a beat. We have an entire collection of engagement rings ready to go from simple to lavish designs, whether you're more of a solitaire or double halo person. Check out our titanic collection of engagement rings to find the perfect one for you!
---
IS IT THE BIG DAY
If it's your big day and you're planning to get married on one of the most romantic days of the calendar, well we have just the right set of wedding rings for you. Valentine's Day is not just a fancy term but it is the celebration of love and togetherness. We understand how special it can be for you to get married on a day that is meant to celebrate the everlasting union of two people. We have a collection of wedding rings for the to-be husbands, the to-be wives and the to-be coupled. We guarantee that you will not run out of choices when it comes to the circle of power, a wedding ring!
---
Not too Sure? Ask us!
Not sure what to get your Valentine this year? Can't find that perfect gift? If so, give us a call and we can help you make Valentine's Day extra special this year! We not only have a large selection of ready made jewellery you can choose from, but if you have something specific in mind we can turn your dreams into a reality. We custom create jewellery pieces by using our high end 3D design technology and manufacture our products all in-house. 100% Canadian made! With the quick turnaround that we offer, you can surprise your loved one this Valentine's Day with a custom, unique gift!
---
We hope you're not falling from the sky anymore rather, imagining yourself fly with the ideal present. This makes us wonder though. What are your plans for this year's Valentine while staying in quarantine? If you've it all planned, kudos to you but if you're out of ideas, don't you worry. We've your back! Check out our next blog on top 10 ideas to celebrate valentine's day at home and wish you all the cupcakes and cuddles in the world!
"Lovers don't finally meet somewhere. They're in each other all along." – Rumi, Poet
---
?>